Springs Group is a proud partner of the Vancouver Canucks, and with that we are thrilled to offer a chance to win tickets to an upcoming Canucks game.
Drop by any of 10 participating Springs Group locations and drop your name in the hopper. As an added bonus, get take advantage of these killer deals on all Canucks game days!
Buy one 15 can case of Bud and get $2 off.
Buy two 15 can cases of Bud and get $5 off.
Buy one 24 can case of Bud and get $2 off.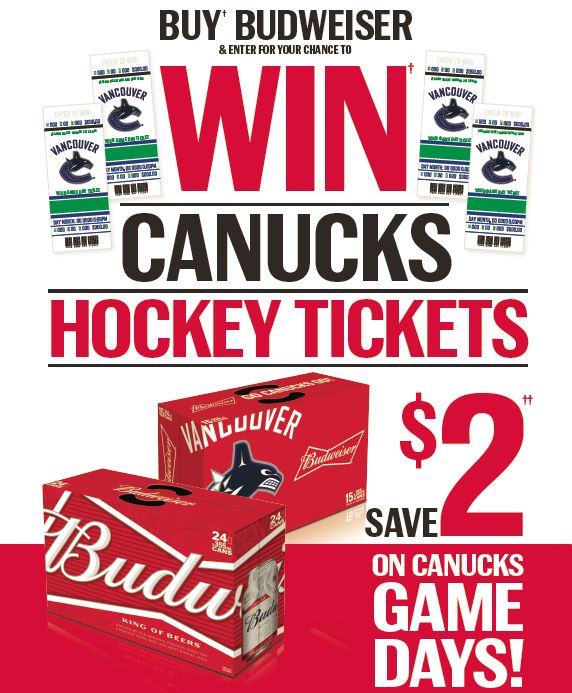 Fine Print
ENJOY RESPONSIBLY. †NO PURCHASE NECESSARY. MUST BE 19 YEARS OF AGE OR OLDER AND A RESIDENT OF CANADA (EXCLUDING QUEBEC). There is one season set of Canucks home games to be won between 10 participating Mission Springs Locations. Home games will be divided equally between all stores and games tickets will be allocated to each store randomly. Each store will pull a ballot for a winner 5 days before the applicable home game. Each winner will receive 2 tickets to that applicable home game for themselves and one guest who is 19 years or older.
Contest provider reserves the right to substitute a prize of equal or lesser value. Alcohol is not included in prize. Approx. retail value $300CAD/ game. Odds of winning depend on total amount of ballots received. ††Price is solely set by the retailer. Contest start date, October 1 2017. Contest close date April 2nd, 2018. FOR FULL RULES AND REGULATIONS, SEE IN STORE FOR DETAILS. Budweiser is not an official sponsor of the NHL™ or any other hockey league, the World Cup of Hockey, or any participating hockey federations. This campaign is not licensed by, sponsored by, or otherwise associated with the National Hockey League™, any other hockey league, or any of their respective member teams. ®/MD Anheuser-Busch, LLC.