Where do we start? The Billy Miner Pub isn't named after some Canadian gold miner or any other Canadian for that matter! Billy Miner was a stone-cold criminal; a road-weary and saddle-hardened train robber whose life (or what we know of it) was immortalized in the 1982 film, The Grey Fox (which has a 100% fresh rating on Rotten Tomatoes!).
The enigma that we know as Billy Miner was born Ezra Allen Miner in 1847 Michigan but spent a lot of his time in Kentucky. A true American bandito robbing trains and stagecoaches throughout the West Coast and California. He even spent time in San Quentin prison, until his release in 1901 after being apprehended attempting to rob another train. Tough luck!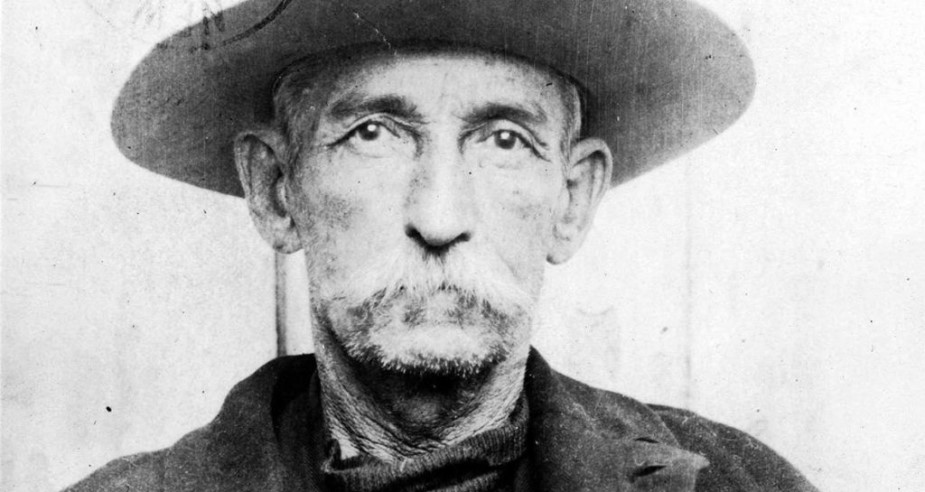 Hanging out in British Columbia
Billy's fame started to catch up to him as he wandered into British Columbia, Canada where he just couldn't keep still. He conducted what is often claimed to have been the first train robbery in Canada although the facts are cloudy. The heist at Silverdale BC near Mission City is widely known, but Miner has never officially been linked to it other than by speculation.
By this time Billy Miner went as another name, George Edwards and kept up to his old ways. His small crew botched a payroll robbery at Monte Creek BC which is known as Ducks after the very first postmaster of the area, Jacob Ducks. His crew raided the wrong train car and left with $15 and a bottle of kidney pills which would end up being his downfall. During a manhunt following the robbery, they were found and Billy attempted to persuade the mob that they were simple prospectors. However, one of the team fired and another was disarmed. Billy remained calm and never drew his weapon. It was the pills that led to a conviction, how anticlimactic.
Given that the common people shared resentment for the CPR Train Company, there were cheers and hollers as crowds lined the tracks that carried Billy Miner to jail in New Westminster. Hilariously, Billy escaped one year later in 1907 and was never seen in Canada again. Over the next couple of years, Billy kept up his reputation as a terribly train robber, getting arrested a couple more times and eventually succumbing to gastritis from some tainted water that he drank while on the run.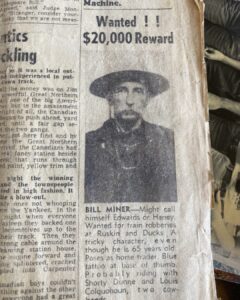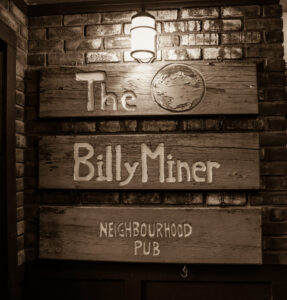 The Gentleman Bandito
Even though Billy Miner was a hardened criminal, he was frequently referred to as the Gentleman Robber, the Grey Fox based on reports of how he politely treated his victims while robbing them blind at gunpoint.
Authentic and Historical
The Billy Miner Alehouse and Restaurant occupy the original building where the Bank of Montreal existed in the early 1900's. You can sit and have a pint in the very place that Billy likely scoped out a possible heist in the original Bank of Montreal building in Maple Ridge. If you listen carefully, you can still hear the chink, chink sound of the bandito's stirrups as he strolls across the floor drawing fearful glances from then unknowing customers in the bank.
We're an alehouse first and foremost, so you'll find a great selection of crafty beer across a versatile row of taps. We pride ourselves in our gourmet burgers and signature dishes so hitch your horse, pull up a stool and imagine a time when horses and carriages were all that roamed the dirt streets in a far simpler, but brutal time in our history.
The Billy Miner Offers Curbside | Take Out | Limited Patio at this time. Click here to Order Now or Check Out our Menu.