There are a dizzying number of tough decisions to make when it comes to your wedding day, but perhaps none bigger than choosing the right venue.
If you've circled the Fraser Valley area as the location for your big day you're in luck, with plenty of beautiful venues in scenic locations. But there's still a lot to consider. After all, this special space has the opportunity to set the tone for the entire wedding. Availability and capacity are two big factors to consider. But you also have to think about food and drink – will that all be included or will you need to find a caterer and liquor store nearby?
If you're looking to tie the know close to home around the Fraser Valley Area, this article is for you. Here are 8 wedding venue ideas and why they rock:
Chestnut Springs Farm Cidery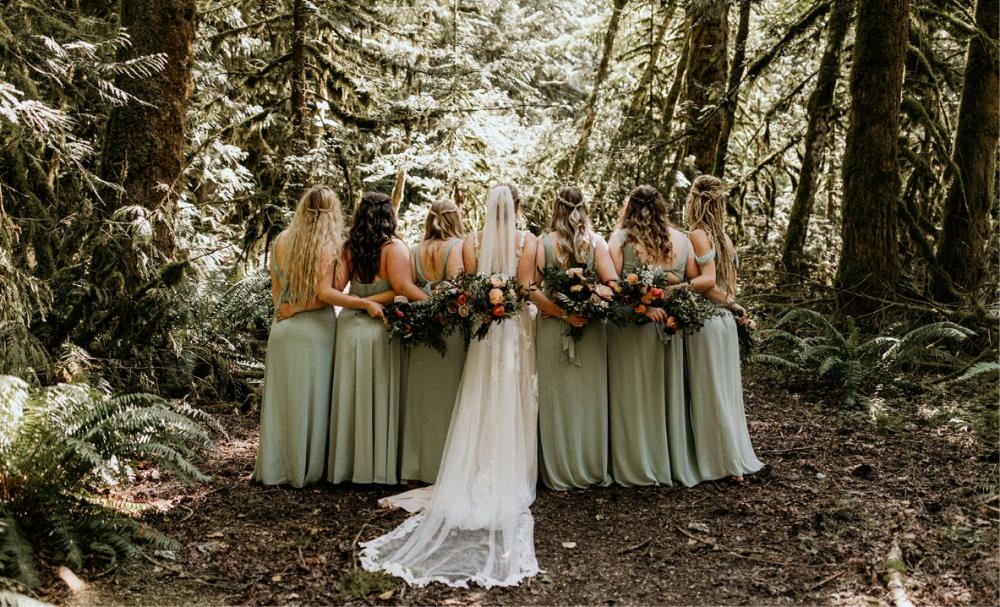 Photo credit to Chestnut Springs
The Chestnut Springs Farm Cidery is the ideal venue for those looking for a rustic wedding. Located in the Columbia Valley, the property has a large field complete with octagonal tents and views of Mt. Cheam in the distance. There's also an apple orchard, antique trucks, a horse drawn carriage and friendly farm animals. The venue specializes in wood oven pizza, plus their special menu that includes a whole hog, wood-oven roasted seasonal root vegetables, slow-cooked baked beans, corn bread and more.
Visit the Chestnut Springs website to book you spot and learn more.
Harrison Hot Springs Resort

Photo credit to Harrison Hot Springs Resort
The Harrison Hot Springs Resort is a stunning wedding venue, tucked inside lush gardens that offer incredible views of the Coast Mountains. There's also a ballroom if you prefer to stay indoors. Plus, being a full-service venue, there are packages available that include catering, group guestroom rates, linens, tables, a dancefloor and more.
Head over to the Harrison Hot Springs Resort website to find a date.
Rowena's Inn on the River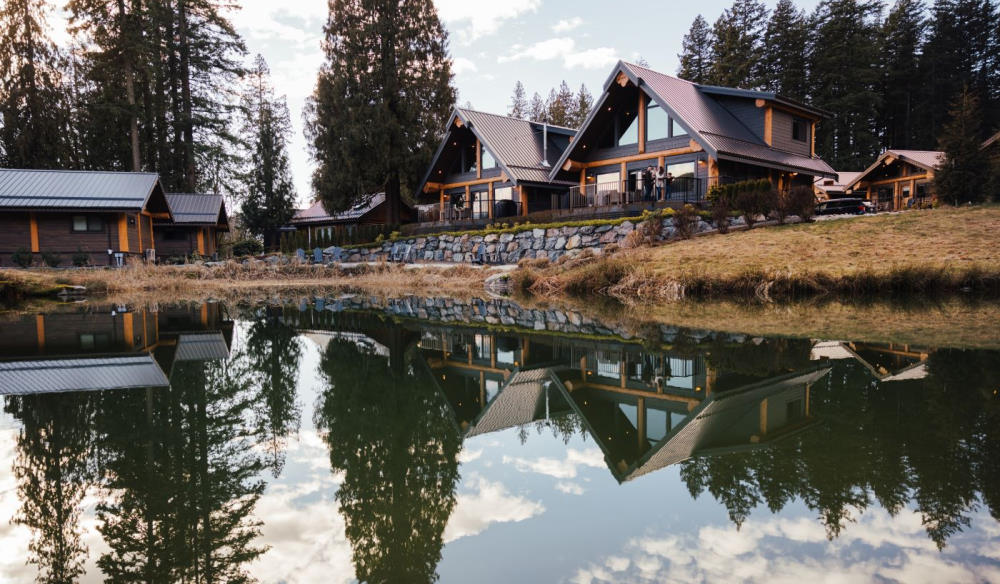 Photo credit to Rowena's Inn on the River
If you want to get married by the river, Rowena's Inn on the River may be the location for you. Whether you want to hold the ceremony poolside or under a tent, you'll have exceptional views of the river right in front of you, with rolling hills and mountains in the distance. The venue can accommodate up to 150 people, and offers a range of dining options. Plus, there are luxury waterfront and rustic woodland cottages to stay in.
Visit the Rowena's Inn on the River site to learn more.
Fraser River Lodge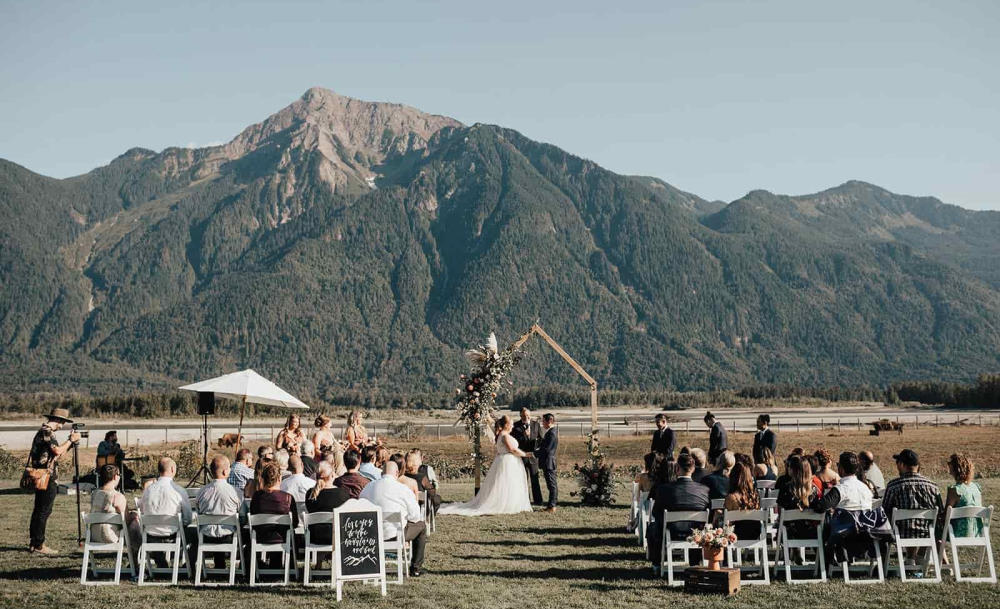 Photo credit to Fraser River Lodge
The luxurious Fraser River Lodge is an ideal wedding venue complete with breathtaking snow-capped mountain views and a handful of location options. There's the indoor Lounge, Event Hall and Marquee Tent for weddings all year round, then there's the Lodge Deck and Field for sunny weather days. There's even a games room and bridal suite so everyone can have space to get ready.
Stop by the Fraser River Lodge website to book today.
Whonnock Lake Centre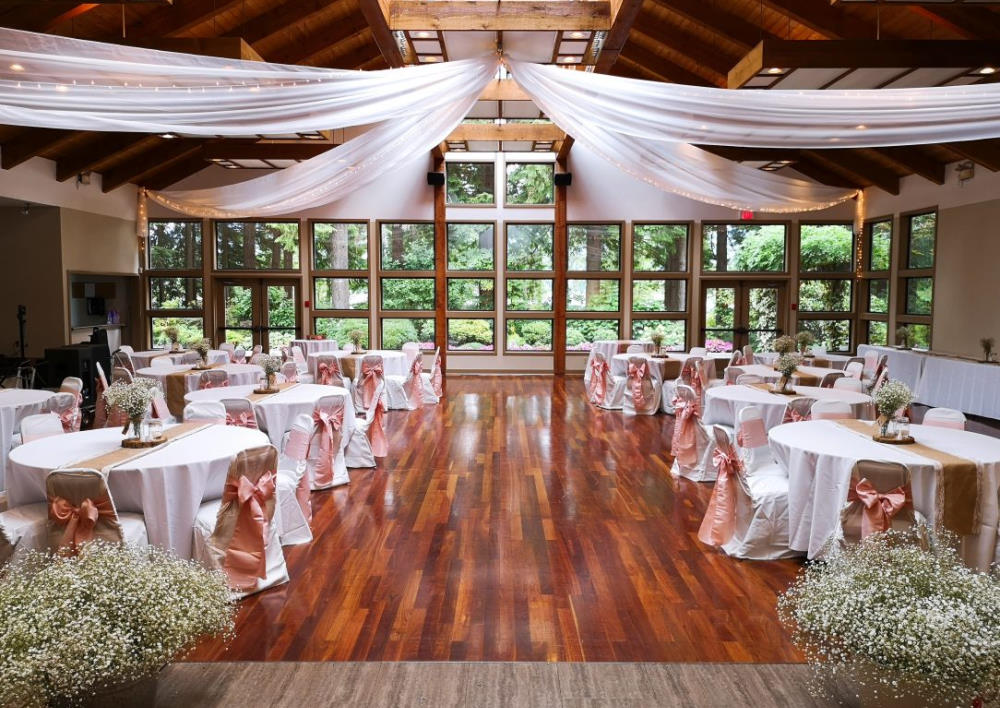 Photo credit to Jack and Jill Weddings
The Whonnock Lake Centre is a community association hall that makes for a great wedding venue. Holding up to 160 people, the centre is located in a picturesque lake park in Maple Ridge. There's a 50 by 50-foot main hall with two additional meeting rooms, plus a beautiful outdoor garden area with a gazebo. The hall also come with a complete kitchen, but you'll have to supply your own food and drinks.
Check out the Whonnock Lake Centre events guide to learn more.
The Hangar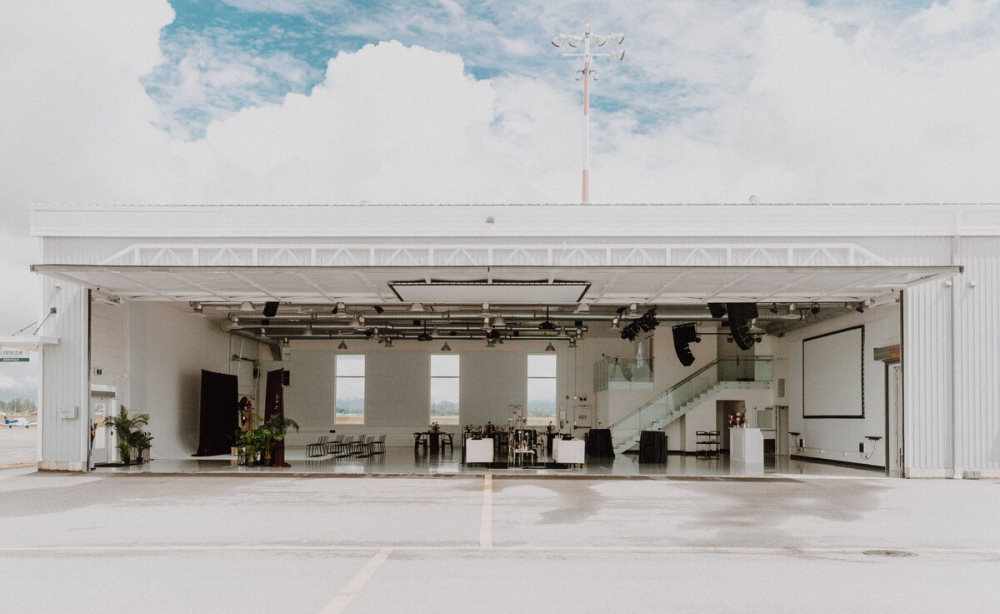 Photo credit to The Hangar
The Hangar is a 3,500 square foot whitespace wedding venue in Abbotsford that is completely customizable from floor to ceiling. The venue comes complete with 200 white resin folding chairs, banquet tables, a state-of-the-art audio-visual system, laser projectors and specialty lighting options. There's also a lounge, bridal suite and fully licensed bar complete with catering staff.
Visit The Hangar website to learn more about the venue and browse the availability.
Morgan Creek Golf Course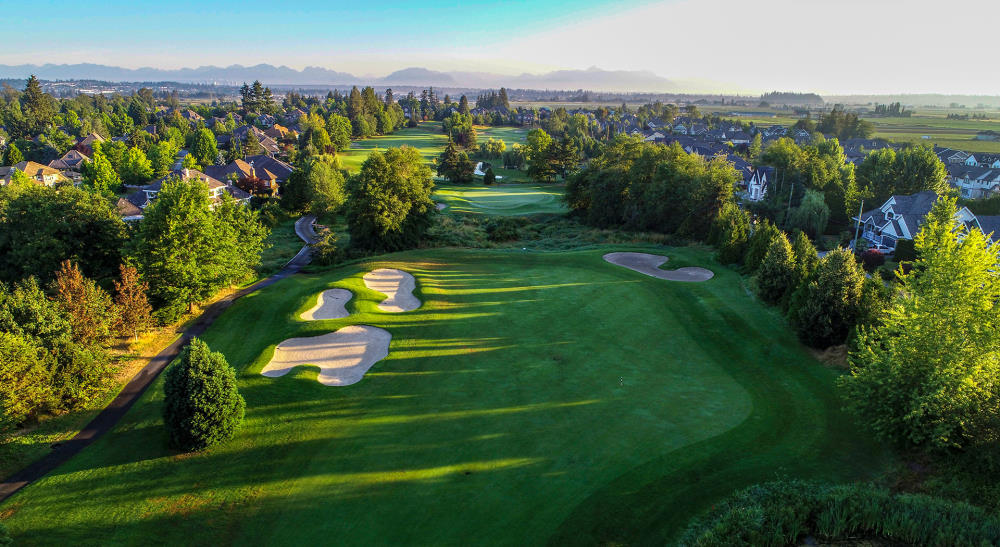 Photo Credit to Morgan Creek Golf Course
The Morgan Creek Golf Course is an award-winning course that's got plenty of natural beauty plus great views of Mount Baker. There are indoor dining areas in the clubhouse and a stunning wedding garden outside that features impeccable stonework, colourful flowers and white padded chairs. The venue offers wedding packages, plus an entire selection of catering options.
Learn more about the venue and make a booking at the Morgan Creek Weddings site.
Singletree Winery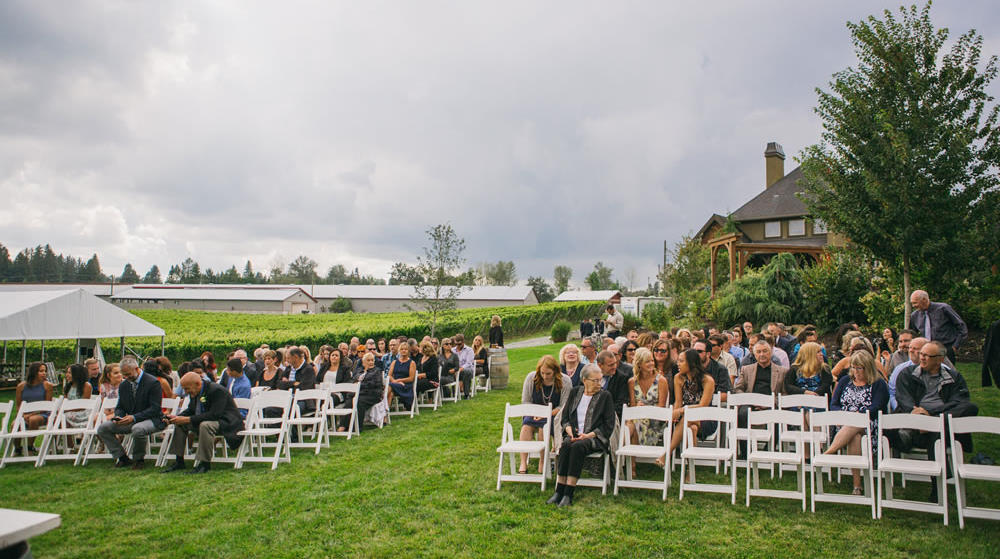 Photo credit to Singletree Winery
Singletree Winery is a small, family-operated vineyard located in Mt. Lehman. The lush vineyards and forest backdrop make for a beautiful outdoor wedding venue. The landscaping is stunning, complete with vineyard paths and Edison lights. The capacity of this venue is 175 people, with ample parking and space for a 50 by 110-foot tent. This venue doesn't supply catering, but they can provide a thorough vendor list for you to choose from.
Visit the Singletree Winery website to learn more about the venue and choose your date.
If you're in the process of planning your big day and you need to stock up on champagne, beer and liquor, swing by your local Springs Group liquor store for everything you need.