Hello June! Yes indeed. What a long strange trip it's been. We're starting to peek out of our caves and out from behind the masks (when it's safe) with the 'double-pokers' (second vax shots) starting to get their invitations and the smell of BBQ in the air a little more frequently. It's also Dad's month so here's a huge hearty hello to all the dads out there, we hope it's a great month for you.
Now get a load of all of the great specials and deals that can be found across all of the Springs Group family of liquor stores until July 5th.
Come visit us in-store to see our most excellent giveaways! Don't forget masks are STILL mandatory!
* NOTE: Must be 19+. Any listed prices do not include applicable taxes and deposits
LIQUOR STORE LOCATIONSLIQUOR DELIVERY
WINE SALE! Still cracking along, while supplies last!

Mike's Beverages
Get a 6-pack of Mikes Hard Lemonade Seltzer for only 13.99 (regularly 14.99)
Get a 6-pack of Mikes Pink Lemonade Seltzer for only 13.99 (regularly 14.99)
Grab a single of Mikes White Freeze 473ml for an everyday low price of 3.99
Grab a single of Mikes Peach Fuzz 473ml for an everyday low price 3.99
Grab a single of Mikes Blue Freeze Pouch for an everyday low price 4.49
Get a 6-pack of Mikes White Freeze for only 12.99 (regularly 14.49)
Nutrl
Get a 6-pack of Nutrl Vodka Soda Black Cherry for only 13.99 (regularly 14.99)
Get a 6-pack of Nutrl Vodka SodaCherry for only 13.99 (regularly 14.99)
Get a 6-pack of Nutrl Vodka Soda Lime for only 13.99 (regularly 14.99)
Get a 6-pack of Nutrl Vodka Soda Grapefruit for only 13.99 (regularly 14.99)
Get a 6-pack of Nutrl Juiced Fruit Punch for only 14.99 (regularly 15.99)
Get a 12-pack of Nutrl 7 Mixer for only 25.49 (regularly 27.49)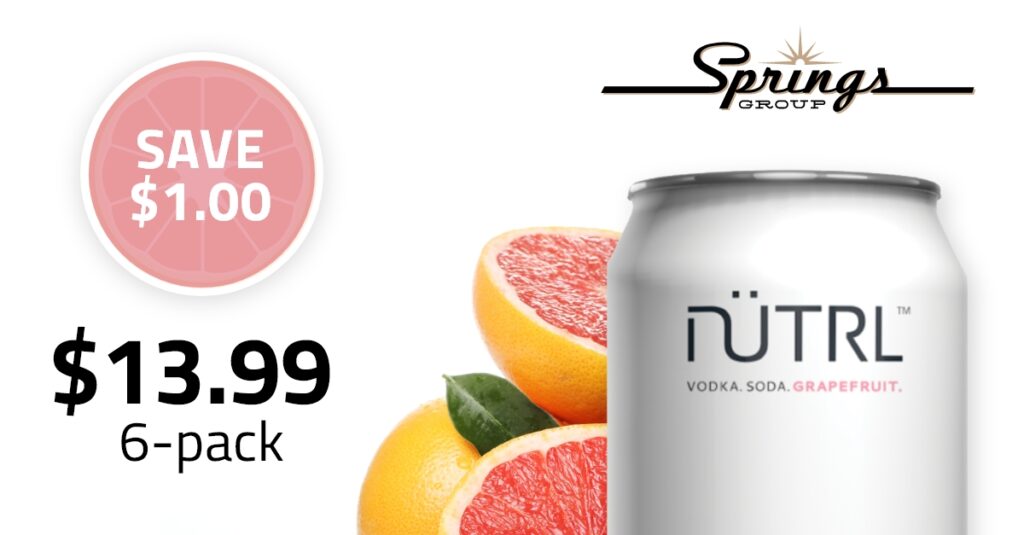 Molson
Get singles of Coors Seltzer Mango 473ml for only $3.49 (regularly $3.99)
Get a 6-pack of Coors Seltzer Black Cherry 473ml for only $3.49 (regularly $3.99)
Get a 6-pack of Coors Seltzer Mango for only $13.99 (regularly $14.99)
Get a 6-pack of Coors Seltzer Black Cherry for only $13.99 (regularly $14.99)
Get a 12-pack Coors Seltzer Mixer for only $25.49 (regularly $27.49)

Labatt's
Get a Budweiser 24-pack BBQ Flash Package for $40.99
Get a 24-pack of Kokanee for only $38.99  (regularly $40.99)
Northam
Get a 6-pack of Virtue Original Lemonade 6ar for only $13.99 (regularly $14.99)
Get a 6-pack of Virtue Pink Lemonade 6ar for only $13.99 (regularly $14.99)
Get a 12-pack Virtue Lemonade Stand Mixer 12ar for only $26.49 (regularly $27.49)
Get a 6-pack of Hey Y'all Kentucky Blu 6ar for only $13.99 (regularly $14.99)
Get a 6-pack of Hey Y'all Florida Citrus0 6ar for only $13.99 (regularly $14.99)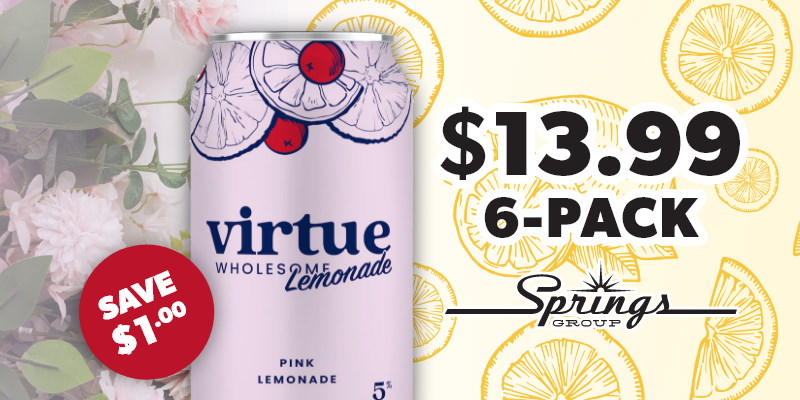 Diageo
Get bottles of Smirnoff 750ml for the everyday low price of $24.99
Get bottles of Captain Morgan 750ml for only $24.99 (regularly $27.49)
Get bottles of Crown Royal 750ml for only $27.99 (regularly $28.99)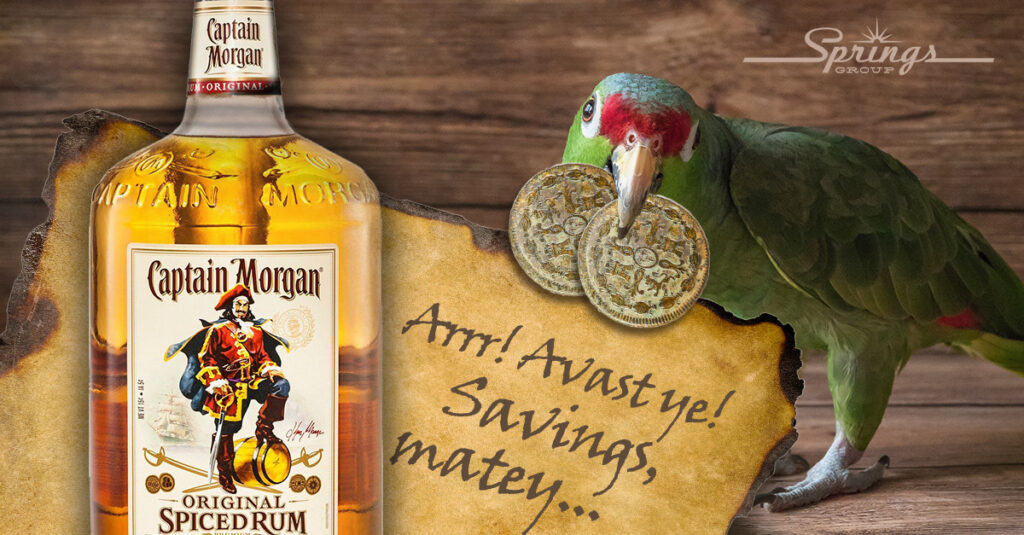 Red Truck
Get an 8-pack of Red Truck Lager for only 14.99 (regularly 15.99)
Get an 8-pack of Red Truck Adventure Pack for only 14.99 (regularly 15.99)
nude
Get a 12-pack of Nude Vodka Soda mixer 12ar for only $24.99 (regularly $26.99)
Get a 6-pack of Nude Vodka Black Cherry 6ar for only $13.99 (regularly $14.99)
Get a 6-pack of Nude Vodka Watermelon 6ar for only $13.99 (regularly $14.99)
Carlsburg
Get a 12-pack of Kronenbourg Blanc for only 28.99 (regularly 29.99)
Get a 6-pack of Kronenbourg Blanc for only 14.99 (regularly 15.99)
Get a 4-pack of Somersby Apple for only 12.49 (regularly 13.49)
Get a 4-pack of Somersby Mango lime for only 12.49 (regularly 13.49)
Bacardi
Get bottles of Bacardi White 750 ml for the everyday low price of $23.99
Get bottles of Bacardi Spiced 750ml for only $25.99 (regularly $28.99)
Proximo
Get bottles of Kraken 750ml for only $32.99 (regularly $32.99)
Get bottles of Jose Cuervo Gold 750ml for only $33.99 (regularly $31.99)
Get bottles of Jose Cuervo Silver 750ml for only $33.99 (regularly $31.99)
Get bottles of Jose Cuervo Authentic Lime Marg 1.75L for only $23.99 (regularly $24.99)
Mission Springs
Get an 8-pack of Blue Collar for only 14.99 (regularly 15.99)
Get a 6-pack of Cranberry Radler for only 13.99 (everyday low price)
Get a 6-pack of Lemon Radler for only 13.99 (everyday low price)
Get a 6-pack of Peach Radler for only 13.99 (everyday low price)
Get a 6-pack of Blackberry Radler for only 13.99 (everyday low price)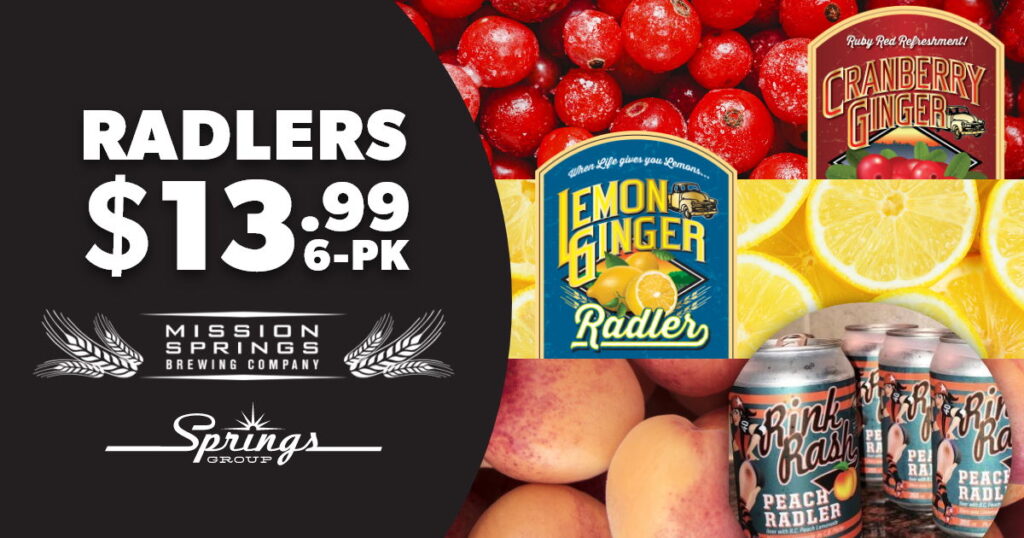 Authentic
Get bottles of Modello Masi Pinot Gris 750ml for only $14.99 (regularly $16.99)
Get bottles of Modello Masi Merlot 750ml for only $14.99 (regularly $16.99)
Get bottles of Masi Rosa dei Masi 750ml for only $17.99 (regularly $17.99)
Gallo
Get a bottle of Barefoot Moscato 750ml for only $10.99 (regularly $11.99)
Get a bottle of Barefoot Pink Moscato 750ml for only $10.99 (regularly $11.99)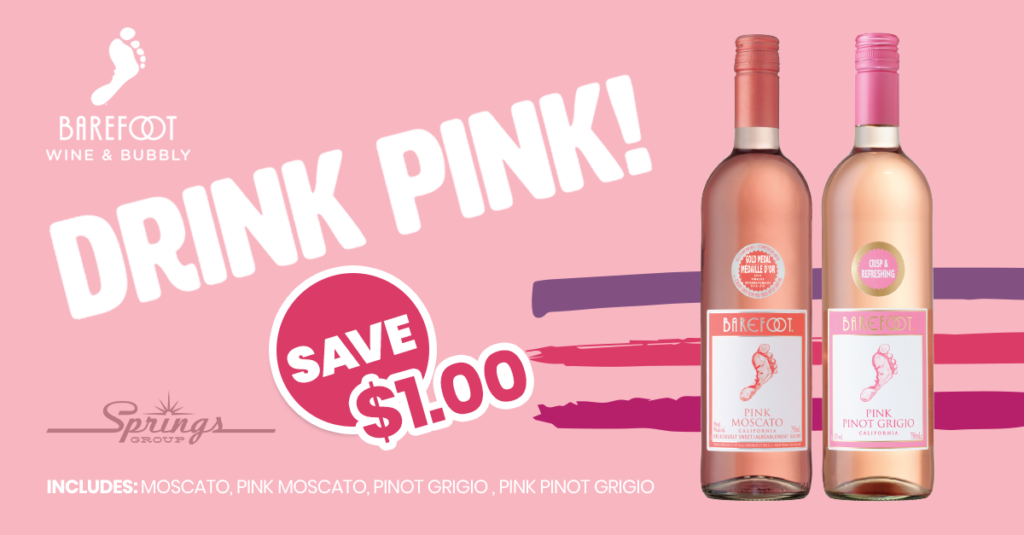 Bruce Ashley
Grab a single of Faxe Amber 473ml for only $2.49 (regularly $2.99)
Grab a single of Faxe Premium 473ml for only $2.49 (regularly $2.99)
Grab a single of Faxe Strong 473ml for the everyday low price of $3.49
Grab a single of Czechvar 500ml for only $2.99 (regularly $3.49)
White Claw / Lemon Life
Get bottles of Lemon Life Variety Pack 12ar for only $26.49 (regularly $27.99)
Get bottles of Lemon Life Original 6ar for only $13.99 (regularly $14.99)
Get bottles of Lemon Life Strawberry 6ar for only $13.99 (regularly $14.99)
Get bottles of Lemon Life Pineapple for only $13.99 (regularly $14.99)
Get a 6-pack of White Claw Variety 12ar for only n/a (regularly $27.49)
Get a 6-pack of White Claw Mango 6ar for only n/a (regularly $14.99)
Get a 6-pack of White Claw Grapefruit 6ar for only n/a (regularly $14.99)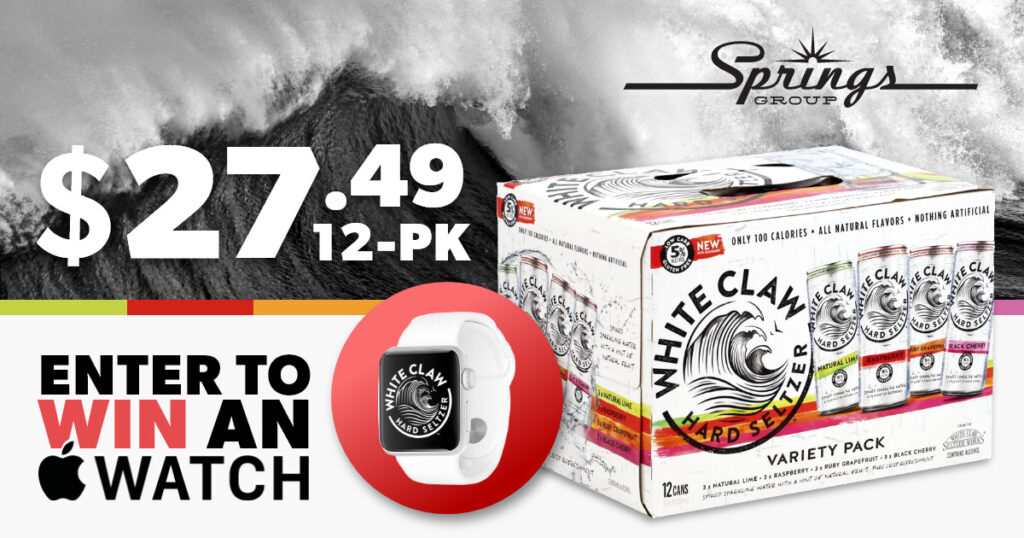 Everyday Low Price
Grab a two-four of Budweiser for only $38.49 (regularly $40.99)
Get a 6-pack of Cariboo for only $8.49 (regularly $10.49)
Get a 12-pack of Cariboo for only $15.99 (regularly $18.49)
Grab a two-four of Sleemans Original for only $36.99 (regularly $38.99)
Grab a 'mickey' of Polar Ice 375ml for only $10.99 (regularly $12.49)
Pick up a bottle of Polar Ice Pet 750ml for only $21.49 (regularly $23.99)
Pick up a 'mickey' of Wisers Special 375ml for only 10.99 (regularly 12.49)
Grab a bottle of Wisers Special 750ml for only 21.49 (regularly 23.99)
Order Delivery Online via Skip the Dishes or Uber Eats