Hearthstone has entered the 2020 Vancouver Foodster Best Pizza Challenge, and we need your votes!
ABOUT THE CHALLENGE
Month of May
The challenge will run most of May, and will end at the end of the month – which is when votes will be counted!
8 Restaurants
A handful or so of the best pizza restaurants across Greater Vancouver, BC have stepped-up to take part in a best pizza challenge. There are a total of 8 restaurants in this year's competition according to Vancouver Foodster.com.
2 Sets of winners
There will be 2 sets of winners for the 2020 best pizza challenge;
Judging panel
Top 3 winners will be voted on by a judging panel of 3 judges comprised of various media outlets that will taste each restaurant's pizza. The winners of these will receive an award plaque and web graphic.
People's choice
1 winner will be voted on by the public – you – who taste the pizza and vote yourselves too! That is why we need your help! 
*Also, all restaurant participants and winners will be published on the Vancouver Foodster website as well.
Reasons to Vote for Hearthstone Pizza!
There are many reasons why you should taste and vote for Hearthstone.
Reason #1: Our pizzas are made "Al Forno"
All of our pizzas are baked in an authentic Italian wood fire oven, which gives our pizzas a unique taste and texture that cannot be mimicked by conventional ovens.
Reason #2: We are local
Hearthstone is part of a BC company called Springs Group, and our restaurant can be found in North Vancouver, BC.
Reason #3: We also have awesome beer!
Besides delicious wood fire oven pizzas, we also offer some of the best craft beer around BC!
Our Pizza!
Pureed Lamb Sauce, braised New Zealand Lamb Shank, seasoned sautéed Portobello Mushroom Mix, Red Onion, Cherry Tomatoes and Grana Podano Cheese finished with fresh Mint. TASTTYYY!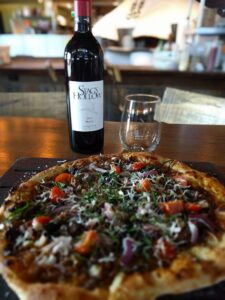 Get our pizza delivered to you via online delivery!
Get our pizza and beer delivered right to your door-step using Uber Eats or Skip The Dishes.
How to vote!
Voting for People's Choice is now live and goes through until May 31 at 11:30pm.
http://vancouverfoodster.com/pizza-challenge/
Voting in the Vancouver Pizza Challenge is open at http://bit.ly/VFPizza #PizzaChallengeYVR
Participate in & vote for us in the best pizza challenge!